Quick Summary:
A quick summary to catch up the newcomers.

SJ Tucker,
s00j, an independent full-time musician, had an extended hospital adventure earlier this year. All-in-all, it involved two emergency rooms, four doctors, two surgeons, an anesthesiologist, two radiologists, the use of a surgical suite, a 45 minute ambulance transfer between the two hospitals, two CT scans, an ultrasound, an X-ray, multiple IV antibiotics, five or six days of bloodwork tests, and five and a half nights in a semi-private room and two more nights in a private room at the hospital. Oh, and don't forget the biopsy in a pear tree.

We established this community because many of
s00j's friends couldn't afford to donate a lot of money, but can make things, or write things, or build things, and very much wanted to help. And, boy did they ever. We have been completely overwhelmed by all the fans, friends, and other folks who have come forward with projects and benefits and offers and auctions. We are very close to being able to close up the books on the hospital bills, and we almost have enough monthly sponsors to completely cover the insurance premiums (just one or two more would do it).

We are and forever shall be eternally grateful for all of the wonderful donors, sponsors, and participants in this project. We are now gearing up a new way to pay it forward, so please stay tuned.
---
A truly amazing offer has been revealed:
Ravens in the Library
: An All-Star Benefit Collection featuring short fiction from
Neil Gaiman, Charles de Lint, Terri Windling, Storm Constantine, Laurel K Hamilton, Catherynne Valente and many more
! This is a
very limited, very special
anthology being compiled and printed
specifically
to benefit
s00j
---
Two of our beloved number are working on an anthology project together, and it falls under the pay-it-forward, make-it-better umbrella. At their request, I am boosting the signal here.
alexandraerin
is accepting submissions for a chapbook! The chapbook will be available on a "pay-what-thou-wilt-shall-be-the-whole-o
f-the-law" scale, and it will benefit a much-needed, soon-needed shoulder surgery for
popelizbet
, she who oft puts her injured-but-mighty shoulder to the grindstone to help so many others.
Check out the post, send help, send love, send creativity!
Thank you all so much. <3
Hi, gang! It's been six years since you helped save my booty. It's a very happy booty today, and I am shaking it for you right now. :D
elionwyr
at
Wanna help s00j and Heather Dale and Tricky Pixie and and and..?
Originally posted at
http://omnisti.livejournal.com/19805.html
:
~~~
Hello, my friends. I got a gentle reminder to post this to LJ, since not everyone is on FB...
Our little music collective has applied for a $250,000 grant, and you can help us qualify for it.
I just need 250 votes in the system at
http://missionsmallbusiness.com"
to get into the running, but I think a few extra votes would show them just how much this could affect our little
Touring Music Collective
(
Sj Tucker
,
Heather Dale
,
Alexander James Adams
,
Marian Call
,
Wendy Rule
,
Tricky Pixie
,
GB Mojo
,
The Traveling Fates
, and maybe a little help for
Frenchy and the Punk
.) Like, vote, then share this link, spread the word.
How do you vote for us? Go to
http://missionsmallbusiness.com
and log in with a facebook account, then search for "Touring Music" in the "Business Name" field. You shouldn't need a city or state, but I used our office address in Redmond, Washington as the base location. That might help if it doesn't come up with a basic search for some reason.
If you don't have a facebook account, you can help spread the word by asking friends and family to vote on your behalf.
All votes must be in by June 30th. That's only a few days away.
(As of this posting, they're at
233
votes! GO MAKE MAGIC HAPPEN!!)
Originally posted by
Flame
Tzaddia and her family need our help
As I'm sure most of you have heard Tzaddia Morningstar has taken a turn for the worse and the cancer she has battled so beautifully for so many years has reached her brain. Doctors are giving her just a few more weeks. We would love to be able to raise some money for her family during this hard time. We would like to hire a nurse for her so she can be kept "comfortable" at home where she belongs instead of in the hospital. Tzaddia has given so much to this community, even when she could barely walk she still gave and gave to all of us. She is unlike anyone I've ever known, and I know there are a lot of people out there that would just like to give her family back just a little.
Please, if you can spare even $5 it goes a long way across the miles. Maybe we'll be able to buy them dinner, maybe we'll be able to get her a nurse, maybe we'll be able to help her family pay her hospital bills … anything to help her and her family.
Tzaddia has fought so hard for so many years. I think personally I was starting to believe she was invincible. At least her spirit is…there's no doubt about that. And I know there is a sparkle in my heart that will always belong to her.
---- Nancy McGee
Paypal donations for the family can be sent directly to breckinridgefamily@yahoo.com
Please give a little if you can. It would mean so much to this family.
Shell Flame Murphy is also managing messages and such for the family at this time. Shell writes:
"I know that many of you would want to see her and say good bye, and I understand this. But please please, get in touch with me first. With good days and bad days, she is easily overwhelmed with a lot of people around and this is very stressful for her family and Chad. The family wants nothing but peace and calm and quiet around her and to also have their private time as much as possible.
To help ease this stress I'm asking you to give me a text, PM on facebook, or email so I can find out first how Tzaddia is feeling, and second when the best time is to be there. And remember.. you can still send those amazing messages through the hospital to her... they mean so much and she reads through them often
http://www.wth.org/body.cfm?id=1761
(Tammy Breckinridge)
I know you all understand and will respect the family's wishes. I will do everything in my power to help you and if you have anything you want her to know or have any messages for her, Chad, & Garrison I will get those messages to them."
Anything you can do to help will be more appreciated than you will ever know!!!! If you can't give monetary, then please consider sending her a message through the link at the bottom. The hospital prints the messages daily and delivers them to the patient rooms. Throughout the last couple of years and the ins and outs of the hospital Tzaddia has saved every single note and it has meant so much to her. I know it still will along with her family seeing how loved and cared for she is. I know many of you may not even know her... but some of you even won auctions of her items when this community first started (the horns). Thank you for whatever you can offer.
Clay and Ranada rent their home. The building management says, hey, we've made life easy for you: use this banking service for automatic rent payment. They take money out of your account and send it to us. It's awesome. Clay and Ranada say that that does indeed sound awesome and they sign up.
Money leaves their account every month, as it should.
Money does not arrive at the building management.
The building management says, hey, you haven't been paying your rent, what's up with that?
Clay and Ranada and their very nice lawyer explain that this is the fault of the banking service. The banking service says it will take a while for them to go through their records and determine whether that's the case.
The building management says, hey, we feel bad for you, but we're still going to evict you by Tuesday morning if you don't pay us the $3500 we think you owe us. Regardless of whose fault it is, we still need a tenant in there who can get money to us because we ourselves are very short of money. So no grace period. Sorry.
Clay and Ranada
ask their friends for help
, but their friends are broke too. They look for loans--because as soon as the banking service admits that this is their fault, the building management will repay that $3500--but there are no loans to be found.
Tuesday morning is tomorrow.
Clay's been a friend of mine for going on twenty years. He's had a really hard couple of years--much as we all have. He's still managed to scrape by and support himself and
pay his rent
. None of this is in any way his fault, unless you want to blame him for trusting companies to do what they say they're going to do. Nonetheless, he expects to spend today putting his belongings in boxes because tomorrow they'll be out on the curb with him, unless a miracle occurs and $3500 shows up in his Paypal account tonight.
The clock is ticking.
Please help that miracle happen.
Here is what business looks like in a recession:
s00j
's permission, I'd like to bring your attention to another soul in need and another auction to help (if you're on my other LJs you're seeing this for the third time, sorry!)
I have a donation in the auction and they are looking for bids and other auction items.
To sum up: a very sweet girl I know --
snowcoma
-- is in the situation of needing immediate therapeutic help or facing the need to be put into a mental health facility soonest. This is beyond the resources available to her locally at no cost, which as many of us know are part of a system that is overwhelmed, and she really needs to be able to afford the professionals who are already familiar with her issues.
If you can bid, donate items, or boost the signal, please visit
savesnowssanity
.
Because, as
vixyish
always says, this is what we do.
With darling
Finally!

Remember that fund-raising drive wherein we offered appearances in a forthcoming webcomic to folks who donated to Save Our Sooj? Well, almost two years later,
those appearances begin this week
.




Originally called "String Theory," the webcomic was eventually retitled
Arpeggio
and appeared online a few months back. Why has it taken so long to get the contributors involved? Three reasons:

1. We're doing this webcomic old-school style: one full page per episode, each one scripted, sketched, penciled, inked, lettered and blogged. This takes roughly a week per installment, so we built up a backlog of almost 40 completed episodes before we went live. This way, we avoid the stall-out that often occurs when Life inevitably disrupts the comic-production schedule.

2. I had already scripted over 20 episodes when the Save Our Sooj benefit began. The real-life "characters" got added to the storyline from there on out. I'm now up to over 70 episodes written, with most of the appearances scripted and many of them drawn but not yet posted.

3. We had plenty of technical troubles getting the strip online. Arpeggio premiered months later than we had planned, and it took a few more months beyond that to become a regular feature.

And now,
here it is
!


Our first SOS contributor, Courtney Landes, takes on the role of a teacher at Meghan's school. Other real-life folks will appear in various characterizations - all fictional, and each a part of Meghan's world. So yeah, stick around. Arpeggio just became even more interesting than before.

Enjoy!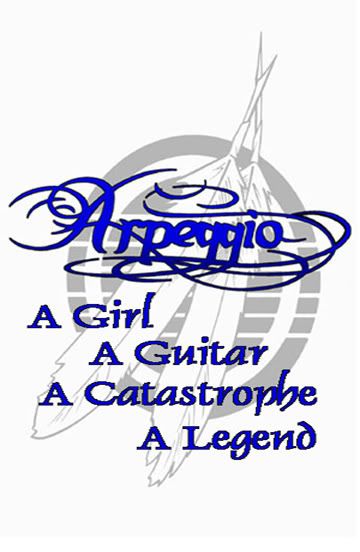 Current Mood:

creative

Current Music:

Rush - "Manhattan Project"
Claim the Future. We do.

Conventional wisdom says this: "Never tell people what you need. Never tell them what you have in mind. Never risk losing by showing your cards at the table."


Damn conventional wisdom.

Here's what's up with the future of Deliria, Mythpunk and Spice.

Having seen the lasting legacy of a certain RPG, my former partners and I decided that Deliria should live again. Bringing that faerie back from near-death, though, would require more than a clapping of hands. It would take time, work, dedication and cash. And like Peter Pan, I need your help.

My partner Sandi/ Damiana calls magic "the art of getting off your ass and making things happen." Last year, we made magic happen with Ravens in the Library. Funded by pre-orders and made possible by dozens of hard-working people, Ravens sold through six print runs and became a hallmark of micropublishing success. More recently, we've done the same with Arpeggio, the Little Webcomic That Could that's inspired, in part, by a certain bard we all know and love.

I've written elsewhere about the laborious process involved in quality media publication. Traditionally, that process demanded a large company with deep pockets, wasting phenomenal amounts of resources to score the occasional hit. It no longer has to be that way, though. With high-quality print-to-order technology, web-based distribution, social media, and crowd-funding sponsorship, a small group of people can promote creativity and share it with a world-wide audience.

This isn't "the wave of the future" – it's the magic of NOW.

We've done it before. We want to keep doing it. And we want to share that magic with you.

A few months back, we decided to create a gaming imprint – Silver Satyr Studios – to release new Deliria material. The long-limbo'd supplement Goblin Markets – The Glitter Trade will be our debut release. Other proposed projects include Powerchords, Roses & Thorns, several sets of Urban Fantasy Character Cards, Deliria: Street Theatre Faerie Tales, a new and pocket-sized Compact System rulebook, and perhaps even a new edition of Deliria itself.





Meanwhile, our fiction imprint, Quiet Thunder Productions, is producing two anthologies: Mythpunk: Rich & Strange and Spice: Tales to Make Your Toes Curl. Several other books are on the drawing board. Following the Ravens in the Library tradition, these books offer top-shelf fantasy fiction that dares to respect its audience. Cat Valente, Seanan McGuire, Storm Constantine, Angel Leigh McCoy, Amal El-Mohtar, Erzebet Yellowboy... these authors, and others, are already involved with Spice and Mythpunk.

Did I mention that every contributor is getting paid? And retains the rights to his or her work?

This isn't about individual books. It's about reinventing the ways books get made.

So yeah – that's what we're doing. Here's what we need.

Sponsorship.

We need folks who can spread the word. Make connections. Toss in whatever they can afford (which we know is often very little) to help us pay our people, print our books, pay the many bills that comes with publishing, and make a little bit for ourselves in the bargain.

Here's what we give our sponsors.

Occasional creative input. Eternal thanks. Frequent goodies. The chance to make things happen, and a hands-on role in the creative process.

Where traditional publishing relegates its supporters to perpetual consumers, and keeps most of the profits at the expense of its creative artists, we share the magic. Folks who've worked with us before – who've packed boxes, written stories, performed readings, illustrated books and so forth – know how sick we are of "conventional wisdom" and way in which it treats both artists and audience. All of us – Sandi, Sherry Baker, Bryan Syme, Sooj and myself, among others – work hard at slow yet steady paces to bring our work to life.

We can't do it alone. But we share the glory, too.

This is the revolution. The proof that conventional wisdom is wrong. As big-box media eats itself alive, the future of creativity comes not from the Next Big Thing™-comma-dammit shoveled through some corporate titan, but from people like you and us. People committing tiny acts of daily magic.

Right now, the future of Deliria looks like two books called Powerchords and Goblin Markets. We need to see whether there's enough audience enthusiasm to support the hundreds of hours and thousands of dollars required to craft such books.

Obviously, we believe there is.

We believe in Quiet Thunder and Silver Satyr. And we have proof that we're correct.

Are you with us?

Thanks for whatever you can offer.

Together, let's make things happen.

Magic's just the beginning of what we all can do.
Current Mood:

Inspired

Current Music:

Judas Priest - "All Guns Blazing"
One of the nicest guys in the whole world needs cash in a hurry to help his best friend get a lawyer.
She was arrested for not appearing at a court appointment that no one ever told her about, over a bill that she paid not once but twice. While in lockup she was treated abominably. Help her fight this nonsense and win.
docwebster
's been a tremendous friend to me for fifteen years while going through some really hard times, and the first time he puts up a Paypal button, it's not for him but for someone he cares about; that's just the kind of guy he is. I'll match donations up to a total of $50, so
please give what you can
and I will make it go twice as far. I just wish I could do more.
I would really appreciate it if you would spread the word about this. Shared pain is lessened, as Doc has said many times. Let's prove it true.
[
s00j
or other mods, please let me know if it's not okay to post this!]
Current Mood:

worried
Kore has an update post
, and it's very encouraging. We're nudging her to put up more specific donating/share-buying instructions. This is very, very good news.
Save Sariel
, save the awesome. :-)
Also, just in case there are some of you left who don't know what's up with Alec,
please read
. Not much time left on this one, and it's dire. I have faith that the right thing will happen, whatever that may be. May it be the best thing, and a joyful thing.